CRTC was founded in 2003 with an emphahsis on both quality of product and design. The driving force behind our company is its founder Brian Humphries who, with more than 30 years in the timber engineering industry, knows what his market needs and how to deliver it.
CRTC have an extended product range that includes Prefabricated Roof Trusses, Ecojoist® Open Web Floor & Roof Systems and Glulam Laminated Wood.
All of these products are designed using state of the art software supplied by Gang-Nail® Systems Limited and manufactured on purpose made specialised pressing equipment in their well equipped factory.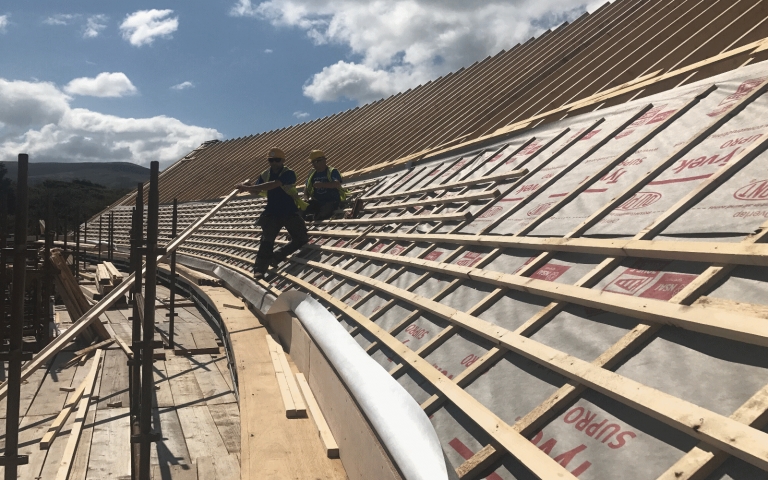 With both our Prefabricated Roof Trusses and Ecojoist® Flooring Systems working hand in hand, we offer the complete timber engineering package, including design and structural calculations, working drawings and complete layout plans with precise illustrations of each component location to all our customers.
CRTC offers the architect, designer and contractor a complete design service to help take advantage of the obvious material and construction savings that timber trusses and Ecojoist® floor systems can bring, particularly with the increase in design complexity which render conventional framing techniques unsuitable.
Completed projects, including housing (both one-off and site), office blocks, flats and hotels use both prefabricated roof trusses and Ecojoist® beams in both floor and roof applications.
info@localhost/myweb/crtc2022
021 4810822
021 4810823 (fax)
Cork Roof Truss Company, Woodview, Inniscarra, Ballincollig, Co. Cork, Ireland